The catalogue of the film enjoy column

TA1501

La Corrispondenza (Giuseppe Tornatore) / The Correspondence

The following screenshot shows the composer is Ennio Morricone(00' 04' 18")

001-Basic Info

Directed by Giuseppe Tornatore
Writing Credits (in alphabetical order) Giuseppe Tornatore
Music by Ennio Morricone
Language: English
Release Date: 14 January 2016 (Italy)
Filming Locations: Edinburgh, Scotland, UK See more »
Budget: €10,000,000 (estimated)
Company Credits Production Co: Paco Cinematografica, Rai Cinema, Ministero per i Beni e le Attività Culturali (MiBAC)
Runtime: 116 min
Color: Color


Cast

Amy Ryan

Olga Kurylenko

Jason Simon Johns

Rick James Warren

Victoria

Shauna Macdonald

Nicholas Oscar Sanders

Prescatore Ottavio Paolo Calabresi

Angela

Anna Savva

Mamma di Amy Irina Kara

Ragazzo Consegne Sammy Moreno

Restauratore Marc Forde

Avv.Durrell Michael Sarne

George Ian Cairns

Sobieski Paul Ridley

Artista Simon Meacock

Also Known As:


(working title) The Correspondence
Brazil Lembranças de um Amor Eterno
Estonia Surematud armastuskirjad
Spain La correspondencia
UK (English title) Correspondence
Greece Θα σε περιμ?νω, π?ντα
Israel (Hebrew title) Hitkatvout
Lithuania Amzinos meiles laiskai
Mexico Te amaré eternamente
Portugal A Correspondência
Russia Двое во вселенной
USA (English title) Correspondence
Venezuela Te amaré eternamente

A couple is kissing in a hotel room, astrophysics professor Ed (Jeremy Irons) and his lover the PhD student Amy Ryan (Olga Kurylenko). He wants her to reveal her most important secret to him, but she refuses. Ed leaves the room for the airport hoping to see her at his next conference at her University.

It is shown later that Amy met Ed at one of his conferences 6 years ago and she fell in love with his way of talking about astrophysics. Amy is working as a stuntwoman, who performs dangerous scenes that normally lead to the death of the character. She keeps communicating with Ed through video chat, e-mails, and packages. One day, Amy realizes he is not attending his mobile phone but receives some emails from him. When reading the last one, she notices a maple leaf hitting her window, she watches it for a moment before it flies away.

The next day, Amy attends Ed's conference, but she receives a message in her phone from Ed to leave the place, but she doesn't. She then learns that Ed died in Edinburgh some days ago. She was shocked that she still received messages from Ed's email account. Feeling confused, she goes to Edinburgh. First she tries to go to Ed's home, but she feels uncomfortable to see Ed's family. She then receives an email instructing her to go to see his lawyer. There she receives a package with a video message, where Ed apologizes to her for having left her alone, but he cannot reveal to her he was sick.

Back home Amy decides to go to the same hotel where they shared the nights and she receives a package with one of his clothes and a letter instructing her to celebrate his birthday in his summer house in Italy. She travels there where she receives a package containing a new laptop and another video where he celebrates his birthday but decided to give her the laptop as a present. She spends the rest of the time seeing the places that he suggests her to visit. In the last night she receives another video message revealing that he knows her darkest secret, an accident in which she was involved and that killed her father. She angrily burns the CD with the video and sends an encrypted message (11 times Amy name) to cancel any message to be sent, and goes back home.

Later, Amy regrets having cancelled the chain of messages and travels back to Edinburgh, where she finally confronts Ed`s daughter who, at the beginning reveals that she feels anger for her, but later she decides to help her as long as she is really envious of the love of her father for Amy. However she was unable to get more information from her. Ed`s lawyer, who reveals her that his last will was to give her the packages and messages according to a plan he has, even hacking his email account, and then he reveals her that she needs to ask Ed to resume the correspondence. Not even finding a bag with memory cards back in Italy, she is capable to find the secret message, as long as they are only some draft videos showing Ed trying to film while suffering the symptoms of a brain tumor. Meanwhile, she decides to use the new laptop to begin filming herself speaking about herself like sending messages to Ed, even revealing the details of the accident that killed her father.

One day, Amy finds her home ravaged by robbers and her new laptop stolen, however she finds Ed`s old notebook with pencil marks of his last letter, and then the encrypted message to resume the correspondence, she sends the message and soon receives Ed`s emails and packages, that began to help her to continue with her studies. She decides to confront her trauma in a botched car stunt, when only she and her companion survive and finally decides to concentrate only on her studies. With Ed`s videos and messages she is capable to end her thesis and graduate with a Master in Astrophysics.

Amy receives a message from Ed to go to her lawyer`s office and she inherits the summer house in Italy. She flies there and receives a last message from Ed where he reflects that humanity made a mistake that prevents them from immortality. For him, his mistake was not knowing Amy before, and with this message he sends his final farewell to her.

Amy goes back and attends an exposition and she sees a statue where she modeled before and noticed the sculptor decided to leave the failed head model as he notices a true sad expression inside. Outside she finds someone that Ed´s prevents her that "he would be a little like him", Amy accepts to call him later and decides to go back home under a sky full of stars.
The Stills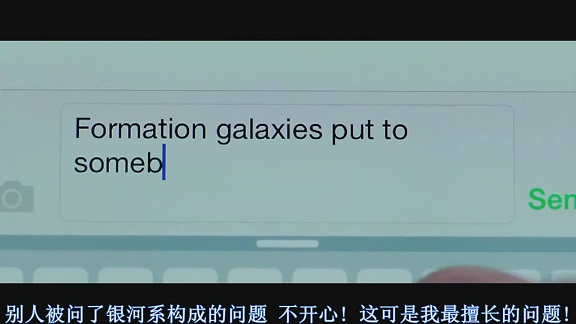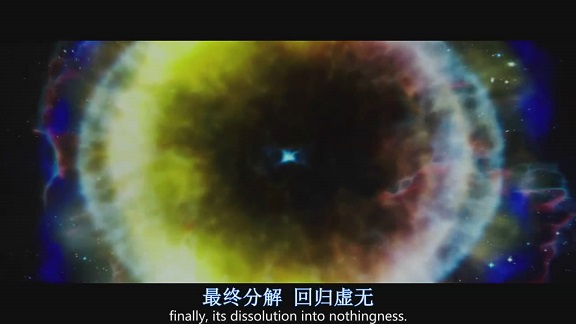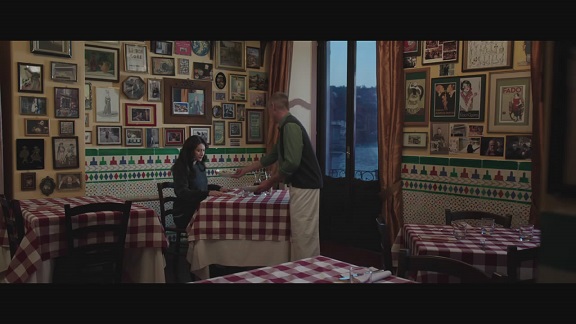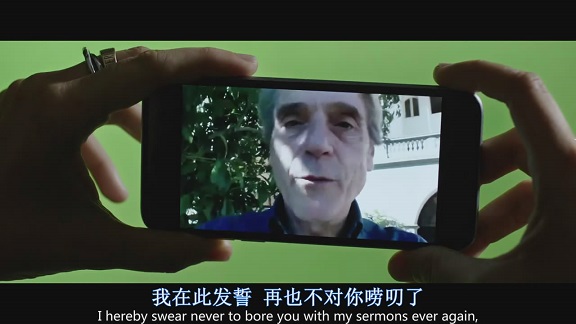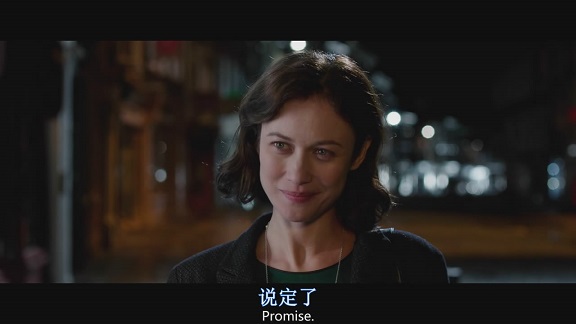 Download the film file
AVI 1.48G 122'07" Embeded EN and CN subtitles
Providing free download in the Morricone Fans Community >>>>>>
*********************************************************************
About the OST
Forward two articles
001- La corrispondenza
By Patrick Bouster
(Released in "
Maestro
" 2015 #10)
Giuseppe Tornatore tells a romance between a young woman, stuntgirl, and an older man, astronomer. The plot and the cast are intimist, revolved around two main actors: Olga Kurylenko (French-Ukrainian) and Jeremy Irons. Surely not an important film, some sort of transition for the director.
This soundtrack had a special preparation and birth. We can guess that the composer found ideas in the first half of 2015, before and during the shooting began in March. Afterwards Tornatore needed time to edit the film and to get a more precise vision of the music and its location within the film sequences.
We have some information, thanks to the material gathered around the soundtrack for Tarantino that, miraculously, just came in between inside a small hole, in June-July 2015. So, in August, he resumed his work on Tornatore's movie. August is also the month of his broken leg. A convalescent, immobilized Ennio did however compose the score. And at last, he didn't conduct it, during the recording in Prague, in October 2015, a fact confirmed by the CD booklet (it is such an exception that no conductor is credited, only an «orchestra coordinator»: Dusan Mihely).
After a great number of stunning music for his friend Peppino, this one leaves an odd impression: not bad, not high, with good moments and some «vacuity», or immobility (so to speak). Maybe it is justified in order to illustrate blank moments, the longing, the wait…
For the good side, which still represents a good half of the CD, the electric guitar brings novelty to the orchestration, in a cool, relaxed way. Improvvisazione in sol is especially remarkable, listenable by everyone (yes, even your friends!) but very enjoyable for its tender and relaxing character. This guitar is more discreetly found in Una luce spenta too, dominated by the sweet strings, and present of course in the last track Disperata chitarra, welcome for ending the CD, not sadly as opposed to what its title suggests.
What is new in this score is the sweetness, and even a neutrality sometimes, avoiding tension and difficult music, as opposed to many of his scores like The Best Offer to mention another Tornatore movie. And it works, in Il ritorno di una stella, L'infinito spazio, Calco, all beautiful, and with a nice violin for the latter. Even Parabola astratta is in the same soft vein, whose title could suggest a very difficult piece. The more «action» or suspenseful tracks, quite sparse, are brought by the nice Stuntgirl (in which we really perceive the danger) and Veloce corsa (not quite speedy though).
Another noticeable change is the leading piano for another group of major tracks, rare since L'immoralità, La storia vera della signora dalle camelie, La leggenda del pianista... and a few others. The piano illuminates nice pieces such as Due camere in hotel, Una storia nella storia (intimist, Chopin-influenced), Invenzione breve. It confers a cozy atmosphere to the entire score.
A last group of immobile tracks, the weakest ones, brings together the slow La casa sul lago (well done but surely too long) and chiefly Una stella, miliardi di stelle, again too long with its 13 minutes, difficult to follow until the end, it could have been summarized in half its duration. This second track makes a variation around the first notes of Close Encounters of the Third Kind (Williams), surely deliberately, as a wink because the man is an astronomer. The track La corrispondenza oddly belongs to the dull category: a weak synth, a banal rendition and an impression of blankness. For once, the film's title track is not a leading one.
We weren't able to watch the film, only aired in Italy in the first quarter of 2016. But certainly
the score follows the plot, which is by exception, rather reduced and intimist according to some Italian viewers, without the shiver of The Best Offer. So we are dealing with a «small» Tornatore, maybe waiting for bigger projects (see also in "News" for one of them). Sometimes, it is normal to be disappointed, that's life.
So, caro Giuseppe, will you finally make Leningrad?
But let's go further: why this neutral music, leaving an impression of «vacuity»? Tornatore and his composer are experienced enough to think about the style needed for the plot and to deliberately choose the tones.
The knot in the film appears to be relationship, including love, through (and often exclusively) apparels and telecommunications means (phone, SMS, computer, video via internet, etc.). Of course it questions the nowadays communications in love affairs and their troubles in a part of the population: anxiety to begin or to be in relationship, fear about sex or desires, anguish about to be engaged or to fail, lack of understanding between people, sexual abstinence... A contemporary topic, indeed. So with this subject (and its consequences: love without reality, without body, virtual reality, machines masking or transforming the human's truth), it is not a surprise to get disembodied music, between blankness and false sentimentality, New Age-inspired at some moments. The impossible or difficult love, the frightening relationship in love: the parallel could be done with Lolita (and its «disembodied» music, in a certain way); oddly (or not), in both films, the main actor is Jeremy Irons.
Maybe Morricone's music does say that to the audience, a more interesting purpose than what

the first listening suggested. Of course it doesn't change the average level of the CD.
In order to leave a chance to the renowned director to develop a reflection he obviously has at 59 years old, below are two interviews excerpts found on the net.
Interview with Giuseppe Tornatore (in movieplayer.it, on January, 12, 2016) (Omit here)
Whole article See the PDF file >>>>>>
***************************************************
By James Southall Thursday February 18, 2016
Composed by Ennio Morricone
Warner Music / 2016 / 65m
Starring Olga Kurylenko and Jeremy Irons, Giuseppe Tornatore's Correspondence looks at the relationship between an astrophysics student (who spends her spare time as a stunt performer) and her professor. This frequently long-distance relationship is facilitated through various technological means, but hasn't really captured the imaginations of the Italian critics (the only country where the film's been released so far) with generally middling-at-best reviews some way short of those for the director's previous movie The Best Offer.
With Tornatore comes of course Ennio Morricone, this being their eleventh movie together (not counting various tv shows and commercials). Eyebrows might be raised when an 87-year-old composer says he still wants to find new things to do and different things to say but unbelievably, he actually has done something genuinely unlike anything I've heard from him before for this score, which focuses on very sparse ideas and executes them with electronics and very prominent electric guitar alongside the Prague orchestra. (Indeed, aspects of his previous Tornatore score were also new for him; the director is clearly a treasured collaborator for Morricone and inspires him to continue to grow as a composer.) Having said that – while it's new, the score does not have the immediate appeal of many of the composer's efforts of the last decade or so, which in being "safer" have tended to be more obviously attractive and moving.
It opens with the dreamlike "La casa sul lago", piano solo (played beautifully by Morricone's regular pianist Gilda Buttà) the dominant force. It weaves around, with a deliberate slight emotional disconnect, the strings rising and falling behind it. The melody doesn't really stick like the composer's so often do, but it's certainly a nice piece. The second cue is the 13-minute "Una stella, miliardi di stelle" which plays like a meditation on the vastness of the universe or something, a very simple little figure repeated again and again, first for piano then synth, all the while with a calming electric guitar – I find it soothing, but am aware that others might be tempted to skip forward long before the track ends, so simple is the idea and so often is it repeated. There's more of a rock feel to "Improvvisazione in sol", hint of Pink Floyd perhaps, guitar and synth pads and percussion – it really is new territory for Morricone and honestly I'd never have thought it was by him had I not known. "Stuntgirl" is more familiar – tense strings swirling, the guitar does appear but only in a supporting role this time, then there's an explosion of action led by the strings but with no small part for electronics. Finally there's a hint of the trademark Morricone romance in "Due camere in hotel", complete with sweeping strings, and it's very beautiful but (ironically) there are probably just too many previous, better, examples of the same style in the composer's canon for it to leave too great an impression.
The titular "La corrispondenza" sees textural electronics eventually give way to a beautiful piano solo before the tide turns back again; I think it's one of the highlight cues. Piano also dominates (in fact, is the only instrument featured in) "Una storia nella storia", this time in pastiche classical romantic mode not completely unlike (but much more low-key than) the composer's wonderful Canone Inverso. The guitar returns (with the piano) in the beautiful "Il ritorno di una stella", one of the score's most romantic moments, an unfamiliar instrumental setting perhaps but a familiar melodic sweep. Then there's a much sparser piece, "L'infinito spazio", shreds of a melody seemingly shimmering in and out cleverly; as with some other aspects of the score, the idea is excellent, the execution perfect, but somehow it doesn't end up sounding as good through the speakers as it does on paper.
That melodic fragment then appears in full and is developed through the gorgeous "Una luce spenta", a six-minute cue that is absolutely the highlight of the album: it's a breezy piece of romance, with the piano and guitar joining forces with a solo violin and the string orchestra in beautiful style. "Parabola astratta" goes back to the dreamlike style, piano and strings both seemingly floating around each other; then in "Calco" comes another gorgeous violin solo. "Veloce corsa" sees the score take a rare return to a more suspenseful style, a very simple descending guitar figure joining some tense strings. In "Il cano simpatico" the score becomes very sparse once more, a piano dancing over a compelling electronic soundscape; then the piano once again takes on a classical sound in "Invenzione breve". The album closes with "Disperata chittara", in which the guitar is actually not particularly desperate at all, but rather mellow and relaxing.
There's some beautiful music in Correspondence and little in the way of suspense material, but this isn't a score of the big sweeping melodies which dominate Ennio Morricone's latter-day music. Instead he has very carefully created a certain atmosphere – notes of love flitting in and out of a much wider piece which navigates seamlessly from classical influences up to much more modern stylings. It's clever music and the dramatic journey it takes is brilliant but as I said, it doesn't make such a strong and satisfying album as perhaps the quality of the individual components might suggest. It is great to hear the veteran composer still doing something different, and frankly any new music from him at this stage is very welcome indeed, so it's a given that his many fans will find much to enjoy in it; but I imagine many won't get as many plays out of the album as his two scores from 2015.
*******************************************************************
OST(CD Warner Music 0825646485338 - Italy - 2016)1

1/1 7:16 La casa sul lago
1/2 13:27 Una stella, milliardi di stelle
1/3 4:17 Improvvisazione in sol
1/4 2:26 Stuntgirl
1/5 3:05 Due camere in hotel
1/6 2:28 La corrispondenza
1/7 5:15 Una storia nella storia
1/8 1:29 Il ritorno di una stella
1/9 3:35 L'infinito spazio
1/10 6:04 Una luce spenta
1/11 2:11 Parabola astratta
1/12 2:33 Calco
1/13 2:27 Veloce corsa
1/14 1:56 Il cane simpatico
1/15 1:20 Invenzione breve
1/16 5:34 Disperata chitarra
Whole OST 320Kbps Mp3 146M Providing download here >>>>>>
June 10, 2017