Master-011g 2016 X-mas gifts sent by my German friend Chilian

As early as December 4th this year, Mr. Chilian sent me an e-mail, tell me he will send a X-mas packet to me, and

to accept the lessons of the previous parcel lost, this time he sends the packet through the post office with a registration plus insurance

.

Sure enough, in December 20

, the postman sent the packet to my home.

Oh, this packet is really not small, just right my daughter in my house. We happily together open the packet from thousands of miles away. There are so many things inside, a box of beautiful chocolates above, next is a bag of cakes, under a big box, open the packaging to look, oh, he mailed a large box of Dresdner Christstollen that I like to eat very much. (

see here

)。

On the side is a CD

,that is latest released "Morricone 60". A envelop placed the bottom, open to view, there is a newspaper clippings with a note, and their family photo and autograph letters

Above: Chilian tell me, this is a chocolate named "mozart kugeln balls". There are a lot of introduce about this kind of chocolate(

Example WIKI

see below image). I find its website

as the URL inisde hr box

.

This is a kind of sandwich chocolate

with a long history and famous

Below: This is Dresdner Christstollen sent by Chilian again (

see here

)

Below: These are Christmas cakes made by Chilian and his wife Maria self-made . They are placed in a colored plastic pocket. Their taste Absolutely no less than the above manufacturers products. And the white one in the upper left corner leads a person to endless aftertastes after eating. I've asked Chilian for its recipe. Maybe I could try some samples made by myself. If successful, I will share this recipe with you!

I weigh this box of gifts, reach 1.7 kg. A German post label affixed to the box shows, it was mailed on Dec.9, 2016, its postage is 19.5 euros

Total cost of these is rather expensive, I know this is Mr. Chilian and his family to me friendship and kindness, I treasure this friendship very much. Then I read the letter and the picture he sent.
This is a family portrait photo, Chilian is three years younger than me. Can be seen from the photos, they appear very healthy and happy. Their daughter has worked, Last year
they sent me a photo with granddaughter ILAYDA who is one year old
, r
eally a lovely doll
From his letter can be seen, the old couple is very happy
. Below
is a picture of a small Elida and her mother in February
of this year
In September this year, when I was in Shandong province for the summer, he also sent a few pictures (Below)
The same as the elderly
,
I understand their feelings very well
.
I wish them health and longevity, the next generation to thrive
Next, I look at the CD and a newspaper clipping. The CD released by DECCA on Nov. 11, 2016, just a month ago. Mr. Chilian sent me so quickly, which also shows his love and affection for Morricone. And the clipping can also prove to his loyalty for the maestro
In April 7, 2014, there was a Morricone concert planned, they have bought the tickets, due to Morricone health reasons was postponed to June 24th, but then announced the cancellation, which make their disappointed very much. Three years later, his wish finally came true.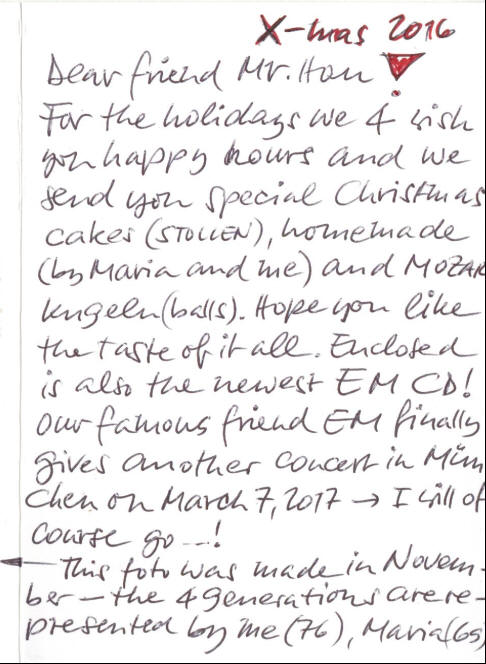 Thanks for the Christmas gift from Mr. Chilian
Wish Mr. Chilian whole family health, life happiness
If you are interesting in Chilian, please look at a lot of web pages about him
About his daughter for my Italian article
emovie-14a
About German musician Hans Zimmer
>>>>>>
Dec.25,2016






Philately
The site
standby
Collection transfer