It is recalled from the IMOLA townlet in Italy
----A bit of thoughts and feeling for 2005 new year's day
If a friend who is come from Imola in Italy will have been looking the page, I hope you could send a E-mail to me by this link.
It is a story that took place in 2005 new year's day, it both is virtual and really.
In the 2005 new year's day, I edited and published the logs of the web site in December 2004. First I have to browse the 4 web pages of logs: general, visited and downloaded files, visitor's countries, visitor's cities. When I have browsed the last row of last page- the 858th cities, a few letters suddenly was shown in front my face "Savio, Emilia-Romagna, Italy". Oh! SAVIO! A factory visited by me located Imola downlet in Italy.
It was in previous centuries. In April 1993, I and my colleague gone to SAVIO--a famous factory of textile machines for a chemical fiber project in Sinopec Jinling petrochem corp.of Nanjing China, the factory is belong famous ENI group of Italy. It gave us a deep impression that view of factory,(See below), strict quality control, sense of competition of urgent. The factory located a townlet in north east of Italy -- "IMOLA"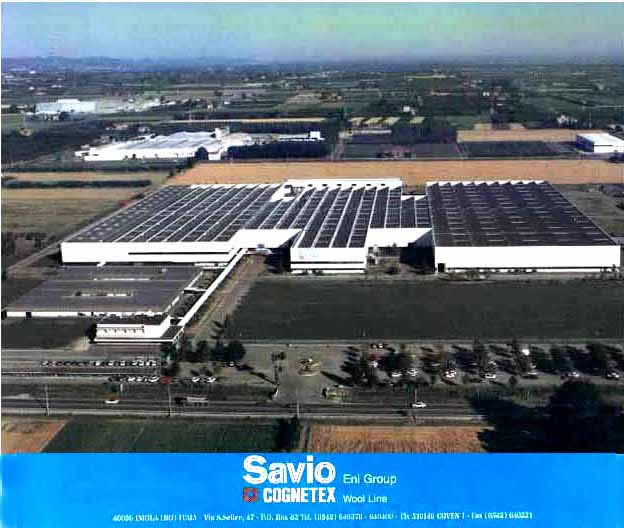 A bird's-eye view of the SAVIO of ENI in Imola of Italy
We stay in the ZIO hotel of Imola and are willing to visiting the townlet before supper, peaceful street, lively bars, a square with a monument, prosperous super market.... The townlet leaves a favorable impression to us.
We continued walk , A huge roar was transmited our earhole, we are full of curiosity to go to forward. Oh, it is a F1 racing circuit! I know that later the F1 race increase more brilliance for this townlet.
| | |
| --- | --- |
| | |
| Imola F1 racing site | |
In order to research the log's address ""Savio, Emilia-Romagna, Italy",I looked over my visiting notes ,information, photos (see above)and a detail Italian map saved for 11 years. I have understood the "Emilia-Romagna" is a Italian region, it administrate Bologna, Pincenza, Genova.... many famous Italian cities, Imola is also among it. The "Savio, Emilia-Romagna, Italy" means a special line for Savio factory located Imola of Emilia-Romagna of Italy!
Out of concern for my old friend "Imola", I use the "GOOGLE" to search the "IMOLA". I am wondering for the searching result, it go to the length of reaching 1,270,000 items! There are a large number reports about the F1 race, tour, history, culture.... I am very glad for its development and prosperous (See below)
I am very happy to meet this both new and old friend coming from Imola and Ennio Morricone's homeland in our web site after so long. Are you a young, or aged man? But anyhow, perhaps we all are an Ennio Morricone's fan, the beautiful music of Morricone made us together to welcome and create new future live . Savio and Imola's friend, I hope you come to again our web site, if you will have been looking the web page, I hope sincerely you could send a E-mail to me for link, and pray present my best respects to SAVIO and IMOLA.
                     January 2, 2005. In Nanjing China
Follow-up note at 2005 Chinese spring festival
Period 2005 spring festival, my little grandson was playing a driver racing game in my PC. I find an IMOLA track in a picture of the game (see below). I try to play the game, of cause my score was not worth mentioning. But I carefully watched every pictures in the game with revisiting the old haunt feelings. I sincerely wish the downlet will become better and better !